07.11. - 07.11.2021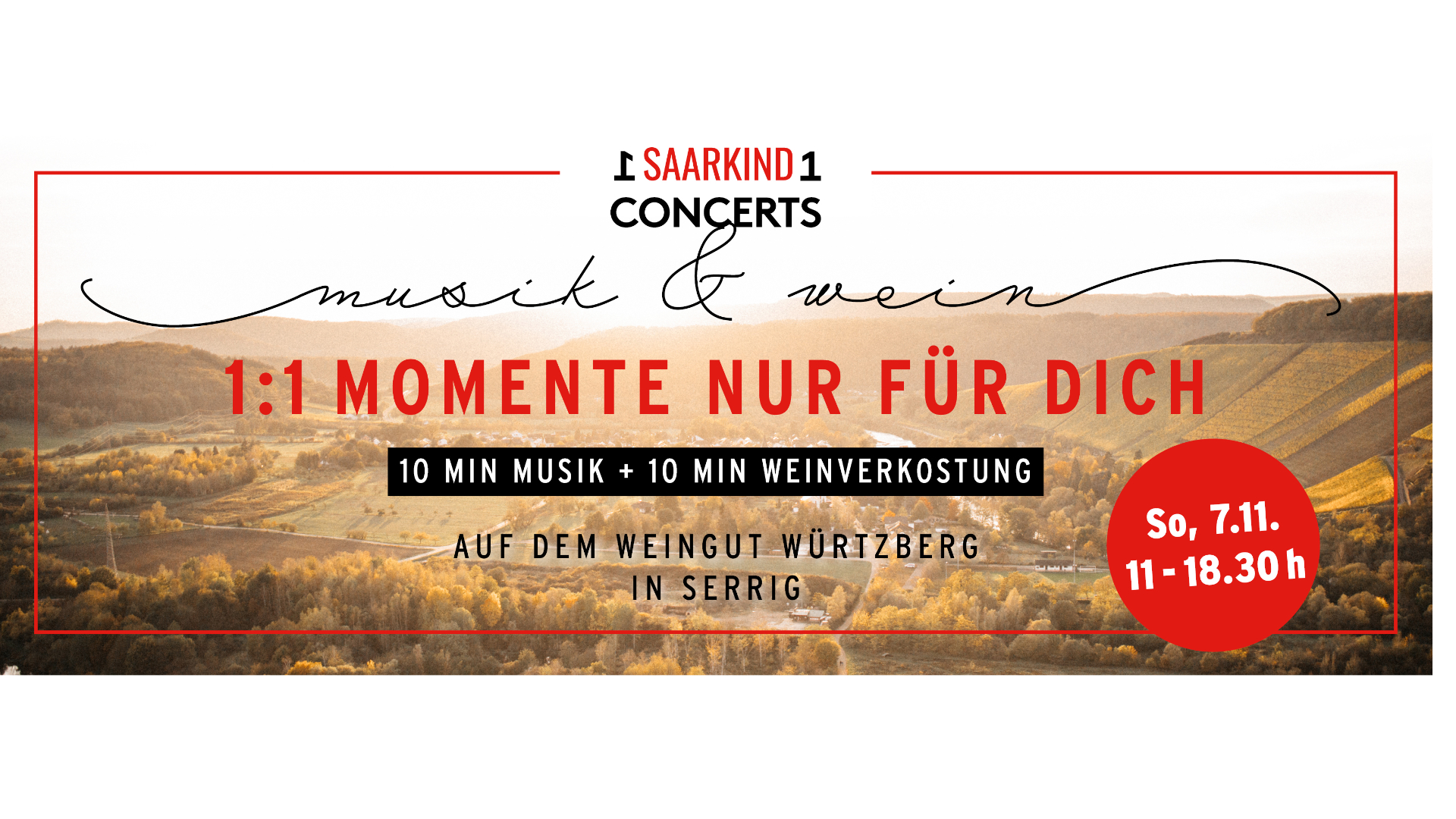 This year, we are celebrating the harvest season with a very special cooperation: on Sunday, 7 November 2021, we will be featuring the 1:1 SAARKIND CONCERTS for the first time. At the beautiful Würtzberg vineyard in Serrig in Rhineland Palatinate, we will be combining both culinary and musical treats in 150 very special "blind dates" – meet winemakers and their regional wines as well as classical musicians from the Trier Philharmonic Orchestra and their freelance colleagues!
Venue: Winery Würtzberg, Würtzberg 1, 54455 Serrig
Date: 07 November 2021, 11 a.m. to 6:30 p.m.
Winery Würtzberg (c) Vanessa Weber
WHAT AWAITS YOU:
2 very personal 1:1 moments at the Würtzberg Winery

10 minutes of music and 10 minutes of wine tasting – to enjoy with all of your senses

Freelance musicians and their colleagues from the Philharmonic Orchestra Trier will treat you to a 1:1 CONCERT

Winemakers from the Saar Wine Estate Weber Brüder, the Winery Stefan Müller and the Winery Würtzberg will be guiding you through a silent and personal tasting.

Admission is free. Voluntary donations to the non-profit association 1:1 CONCERTS will support freelance musicians and artists.
What is a 1:1 SAARKIND CONCERT?
At a 1:1 SAARKIND CONCERT, two approx. 10-minute non-verbal encounters will take place one after the other: one musical and one culinary. In each case, an opening eye contact is the impulse for a personal, completely individual experience. Who will perform, which instrument will be played, which pieces will be played, which wines will be tasted? All of that remains a surprise. An intense experience for both sides enabling proximity at a distanca and combining classical musical enjoyment with regional culinary delights. A mindful and pure experience with all senses.

Each booking includes a 1:1 concert and a 1:1 wine tasting. Total duration: approx. 30 minutes. Afterwards, there will be some time to share the experience and taste further wines in the courtyard.

For a good cause.
All this is for a good cause: admission is free, the musicians of the Philharmonic Orchestra in Trier play as a solidary contribution to support their freelance colleagues. During the past year, many volunteers have helped this concert format fly all around the world and have helped offer freelance artists a stage. With your donation you can support the work of the non-profit organisation 1:1 CONCERTS e.V. – and enable us to strengthen culture and art and to conceive and realise projects like this one. THANKYOU.

Donation account at GLS Bank:
1:1 CONCERTS e.V.
IBAN: DE56430609671208500500
BIC: GENODEM1GLS

Paypal: 
SAARKIND and the vintners:inside
Saarkind, that's 10 young winegrowers and winemakers from the Saar area: "Through our work with nature, we have learned to appreciate and love what surrounds us. So together we have dedicated ourselves to wine and our region and would like to share this with you! With our brand "Saarkind" we want to bring the importance of sustainable action to the fore! One thing we cherish especially: we are only guests here on this planet and have to deal carefully with our resources. "
Stefan & Johanna Müller, Winery Stefan Müller
Felix & Annalena Heimes, Winery Würtzberg
Stephan & Michael Weber, Saarweingut Weber Brüder
---
Slots
Close
Booking
Vielen Dank für Ihre Buchung
Sie erhalten von uns nun eine Buchungsbestätigung an die angegebene E-Mail Adresse mit weiteren Informationen zu Ihrem Konzert.
Bei Fragen wenden Sie sich gerne an das lokale Organisationsteam.
---
---
Musiker:innen des Philharmonischen Orchester Trier und der freien Szene
Als musikalischer Partner ist das Philharmonische Orchester der Stadt Trier unser Akteur.  Orchestermusiker:innen und freie Musiker:innen spielen im solidarischen Schulterschluss, wie es bei 1:1 CONCERTS Tradition ist.
Yuliia Vasilkova – Violine, Philharmonisches Orchester Trier
Angela Simons – Violoncello, freie Szene
Eva Rezsni – Klarinette, freie Szene
Wilma Koch – Fagott, Philharmonisches Orchester Trier
Renate Wege – Horn, Philharmonisches Orchester Trier
Bernd Wege – Horn, Philharmonisches Orchester Trier
Florian Chamot – Trompete, Philharmonisches Orchester Trier
Martin Chorell – Posaune, freie Szene
Camille Renaud – Posaune, Philharmonisches Orchester Trier
Andreas Sittmann – Laute/Gesang, freie Szene
Organisation: Madalina Kaufmann, Philharmonisches Orchester Trier
Gastgeber:innen
Christian Siegmund, Franziska Ritter, Vanessa Weber-Mischke, Andreas Siegmund, Léa Villeneuve
Kontakt / Projektteam
1:1 CONCERTS Team: Christian Siegmund, Franziska Ritter
SAARKIND Team: Vanessa Weber-Mischke, Carina Rump
Gästebuchung: Heike Bebenroth
Kontakt:   saarkind@1to1concerts.de
Wie alles begann und wie es möglich wurde!
Das 1:1 SAARKIND CONCERTS Projekt entstand im Rahmen der Kultur- und Kreativpiloten-Auszeichnung: SAARKIND und 1:1 CONCERTS sind von der Bundesregierung  im Jahr 2020 ausgezeichnet worden.  Franziska und Vanessa hatten während einem der vielen Online-Workshops ein "1:1 Telefonspaziergang  Blind-Date", entdeckten dabei viele Ähnlichkeiten zwischen den Branchen… und beide hatten große Lust, gemeinsam etwas auf die Beine zu stellen! Voilà.
1:1 SAARKIND CONCERTS sind gefördert von der Beauftragten der Bundesregierung für Kultur und Medien aufgrund eines Beschlusses des Deutschen Bundestages – in der Programmlinie "Landmusik" des Deutschen Musikrats.
---
---